I'm known as easily get hurt woman hehehe. I always get hurt on back, knees, ankles, hands etc. The most happening is I get bruises very very easily and fast!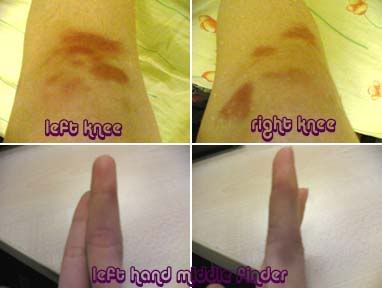 The knee bruises got it from Cardio Dance class taught by Jimmy. That time doing Jazz dance and need to kneel on the floor. Immediately after the class i got all these bruises. Big patch some more!
The finger bruises got it from Cardio Dance class also but this time do different dance and needed clap hand. I donno how I clap until I hit my middle finger and immediately see black black already. almost whole finger got blue black. Once I hit it (may be hit the nerve) I felt very painful and heating and swollen n changing color.
Wonder what's wrong with me. Why I got bruises so fast? My blood got problem?