Today is Dumpling Festival...and also is my lunar birthday (chinese calendar) - 五月初五. I was born in this day and of course I love to eat dumpling (ba chang). However, it's been long time I didn't eat and no chance to get one to eat. Until this morning got colleague brought some to office and I had 1 and half pieces :p....I wanna to eat since few days ago but unable to locate one and no time to locate the stalls which selling... I still will eat again if I manage to buy some.... Too bad my family didn't make it.

Just now office had a farewell lunch for my manager and another colleague. We had Pizza Hut, chicken wing, fried meehoon, jelly, secret recipe choc banana cake etc.... I'm very full now :p Wish all the best and good luck to them. Here some photos taken just now...


Developers Team



Whole PD Team - 2 persons named are leaving us...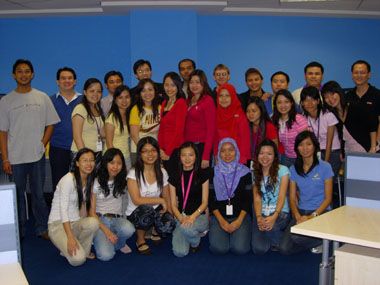 This Friday is my birthday and the gym friends say celebrating with me...but still not decide will have a party at friend's house or just go out dinner at a nice restaurant....no time to prepare for everything...lately suddenly too many things on hand and too much to write it here...no worry, i'll try to write down everything...