Leeds, UK 3-13 July 2006. Purpose: so called training to take over a system

Day 1 & 2: Depart & Arrive Day

Flight at 11pm KL-Singapore-Munich-Manchester. Took abt 16 hours including transits. At munich stopover just waited in plane. Reached Manchester Airport about 8am local time. Before I depart I've purchase Virgin Express train ticket to Leeds @ 10:20am. Thought I have plenty of time at Manchester Airport and thinking to walk around. However after came out from toilet the queue at the custom already very long. I have to queue at the back and got about 100 ppl infront of me I assume. There were only 2 counters open for foreign passport passengers! Gosh... queued for about 2 hours only my turn and I'm going late to take the train! A little bit of asking at custom counter but lucky I showed all the info I have. After custom I have no idea where I should go to catch the train. Keep looking around to get the signage... darn it was a long long way to reach train station...its about 10 mins walk. That time I'm walking cum running with big luggage u know...Although I've purchase train ticket online but I've to collect it at the Fast Ticket Machine with my credit card + reference number. I was so worry I can't catch it cos I'm there on time. However I'm lost again cos I donno which platform to go cos the ticket not mentions. Have to ask ppl around...Lucky the train just came and I have rest time to wait for on board. The journey took an hour plus to reach Leeds. Took a cab to hotel from Leeds Train Station. About 20 mins reach hotel. And guess I was early to check in cos its just 11ish am. But lucky managed to check in and I was exhausted after travel nearly a day!!
Leeds Train Station and railway

The UK company helps to get a nice and comfortable room. So straight take shower and rest a while before I tell them I'm ready to work! Start work immediately and I was a bit blur with absorbing all the informations. Tiring day...back to hotel after work off at 6pm. I got change and have dinner at the restaurant downstairs (the only restaurant). Had beef steak and york pudding. However it was expensive meal for entire trip pay by my own :p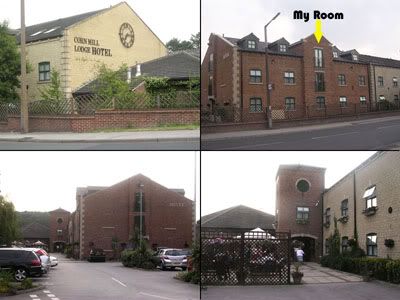 My Hotel - CornMill Lodge Hotel.
Right bottom one is outside of the restaurant and a lot of ppl having beers out there.

My Hotel Room
It was quite comfortable room with big flat screen tv. :)
You can see a lot of big fat cats on the streets.
Day 3 & 4: Working Day ...boring days
Can't remember much what I did on these 2 days except working in day time. I can remember second day after work a gal brought me to shopping. Just have window shopping although got sales around. That night ta bao Subway back to hotel. During lunch time through out the week got one colleague brought me around. Sometimes sandwiches for lunch, sometimes go to pub to have beer and english meal or ta pao fish and chips dine in office cafeteria. I find that their lunch simple for just have sandwiches will do...everywhere. What a boring meal! In fact, their meals are boring....and hardly get hot food around. If so you have to go to restaurant and tats expensive. sigh.... Oh yeah...talk about meal...I had 7 consecutive same breakfast every morning which is English Breakfast including bacons, sausage, mushroom, baked beans, baked tomatoes, scrumbled eggs, cereals, orange juice, breads etc.... every morning same without fail!! Although I like bacons so much but jelak with the food. So fattening and same old same....

Some of my lunch and dinner. First two was my first nite dinner. 3rd pic is fish n chips which they put salt n vinegar a lot. too oily for me. last pic is fish pie with salmon and green peas n it was nice n yummy
Day 5: To Joker's Bar
Because of the company there had a good financial year so big boss call for a party in joker's bar call Jongleurs. Everyone went home after work and get prepare. Because no one wants to drive. They want to have beers as much as possible. Some of them picked me up with a cab and go to the pub next to this joker's bar earlier to have a cup of beer. Then have dinner in this Jongleurs which full of ppl. The food there so so only. Joker's bar means they will get some ppl to tell jokes on stage. However my english level not same as theirs so don't understand much. Just knewing they laugh a lot. I was there fall asleep in fact :p First person who starts jokes is a blind young man...this one I can understand a bit. The rest nope and not really attracted me. There was one guy smoke n drink while joking...not a good image. And they also talk bad about americans. They used a lot of english jargons very deeply... sigh...why can't they use simple words to address same meaning? bleh...boring night :p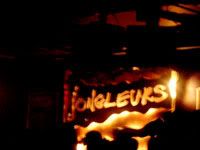 Jongleurs...boring joker's bar...
Day 6: Dunno
Can't remember what I did cos it is not a special day. And can't even remember how I settle my meals at night cos I don't eat in that restaurant at night anymore. Too costly. May be someone took me out dinner or I bought some food back to hotel. The CEO ask me to work during weekend but my colleague helped me so I can avoid it. I need time to go around during weekend....n there is nothing much I can do even I work in hotel....
Day 7: York Day Trip
It's Saturday so planned to have a good day trip. Got info from others I should visit York. Which is a beautiful place. Woke up early, wear short n wear only cardigan, had breakfast n walk out hotel to wait for bus to train station. Who knows it was so windy and I felt cold walking out the street. My first time taking the bus and travel alone. Worry miss the station. So ask ppl around and lucky managed to find where is the Leeds Train station. Went to Tourist Information Center located in train station and collected all the info including maps then only decide where to go. Bought a ticket to York cost 8.20 pound. The journey about half an hour. My first stop was National Railway Museum (NRM) where u will directed to from where u alight from the train. Free admission. It has 2 halls with all different types of trains.

National Railway Museum (NRM)
The first pic is The Yorkshire Wheel located outside this museum. There were too many trains and need more time to walk around. I've lack of camera memory and battery so just have some few shots. Bottom last 2 pics were royal trains.
Next I walked around the street. York center has 2 main areas for tourist to visit. One is Castle Area and the other is Minster Area. I have no idea how to walk around and keep looking at map and recognizing the streets. There are many ppl on the streets. But lucky they got street signs at every junctions so you wont lost directions. My first location is Castle Area which has Jorvik Coppergate, Fairfax House, Cliffords Tower, York Castle Museum and more which I might missed out...

Clifford's Tower and York Castle Museum. Fairfax house and Jorvik just near by. There are shopping mall around as well.
Next went to Minster Area.

York Minster
Treasury House

Holly Trinity Church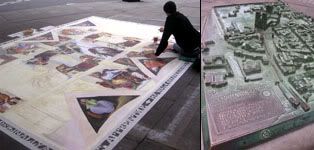 Saw a man drawing nice arts on the floor. Next pic is the model of whole York street with tourist attractions.