6-10 June 2006
Day 1:
Took 12 hours flight from KL Tuesday Midnite to Amsterdam airport and transit there for 4 hours then took another 1 hour fokker plane only reach Leeds airport Wednesday morning (7 hours back from KL). It was tiring. After reached checked in into hotel then straight go to the office to meet up some of them in COE office. Then talk talk talk n work work work n all infos keep going in my brain which already half dead! Too much info for first day with tiring body n brain. After work the CEO brought us to some where at Yorkshire to have English dinner. The way to the place the scenery are nice. It is countryside feel. You can see big piece of green land and brick houses. Knocked out when back to hotel after long hours working with jet lag problem...lucky is a nice hotel to have nice sleep. First time sleeping in a hotel room alone.
Took KLM flight. above pics are Amsterdam airport. Nothing much to shop there and the things very expensive. Below are Leeds airport. Eh got many London Cab which I find cute. got pink one also! hehehe. That time I think I took london cab with my luck but not as nice as in the pic.

I stayed in budget hotel call Ibis Hotel (
www.accorhotel.com
). It is quite nice hotel and facilities are quite new. The lift looks advance. The room was comfortable and nice toilet.
Day 2:
Got a great & long sleep feel better and fresher. Had buffet breakfast at hotel lobby (top 2nd from left) abt 7 pound each person leh...so expensive and not many choices. I still prefer buffet style in malaysia more varieties and more delicious.
After that whole day work and work. Learn up the hardware (totally all new to me). Got demonstrations on how the system works. Read the source code without any documentation which I got lost. Again...lots of info into my brain. When reaching afternoon time which is night time in malaysia my brain slow down and get tired....
After work another guy took us for Indian food somewhere but I donno where :p. Nice restaurants and a lot of customers. Food were nice. After makan then he brought us around for sight seeing and been to a place call Saltaire.
top left pic 1 is a scenery on the way to yorkshire. pic 2 is wat i ate - sausages with mash. big portion quite nice but sausages too salty :p following is the Indian restaurant.
bottom pics is a place used to be Cricket club and now became restaurant and bar. I had lunch on the third day b4 leaving leeds. Those colorful packets are different kind of sauces which I feel interesting :D
Below is the Saltaire place. The river used to generate powers for whole town. (roughly what i heard). I like that sport car. I think is Lexus or something else? hehee din really c the name but i like the outlook. saw another black beemer as well but din take the pic. the last pic with flower is lady bird poppy. nice? special n plant by the guy who took us around one.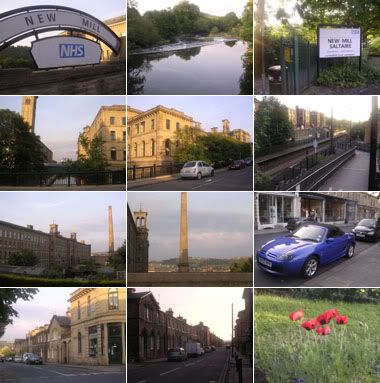 Day 3:
More tired and because leaving in the evening. Same thing had same breakfast at same place (if stay longer i'll bored with the food). At work more relaxing cos nothing much can do. Just finalize something and propose the proposal for the contract. Found out the system going to take over without proper documentations and some nearly none of it. A lot things need to be done before can really move on to the source codes... :(
About 6pm flight to Amsterdam airport but this time shorter transit time for about 2 hours. Shopped some souvenir but din buy much due to too expensive with exchange rate :p
Again took another 12 hours flight back to KL. reached at about 3pm. But my journey continue again....see next post.
COE office where I worked. Quite a nice and big office. But too quiet due to less staffs. Oh yah, the time I was there was Summer and the hottest time there. everyday hot and sunny.