Had a great night and it was fun! fun! fun! All so hyper and supportive and the launch team were so great! It was a wonderful launch and the members were enjoyed including me. I joined BJam and BCombat...totally flat and all wet after these 2 classes...first time leh...my whole pant wet... both release really high intensity and exhausted...but I like!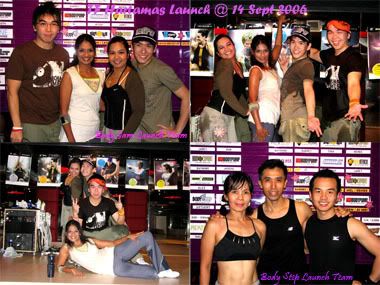 BJam Launch Team: Jason, Leo, Tina, Ken
BStep Launch Team: Barney, Janet, Roland
Jammers: Su Lin, Raymond, Cecilia, Colin, Stephanie, Caroline, John (small), Kenneth, Prudent, Sharon, Shirlyn and many more...
Can see all the faces so happy right? Good job everyone! Another launch to go :p tapi kali ni apa theme apa color?