Last night went for Johnson and Yvonne's wedding dinner. It was great. Happy to meet community members and some first time meet. We had great time chit chatting, drinking wines and listen to a legend *someone hit monkeys along highway*. Sorry for the car damages especially new car. We took lots of pictures. Besides some of them complimented me slimmer than last time which make me more courage to go to gym often and reach my objective =p.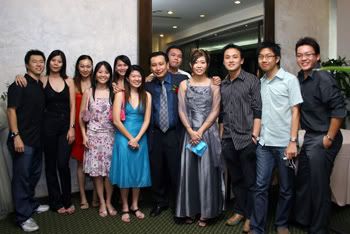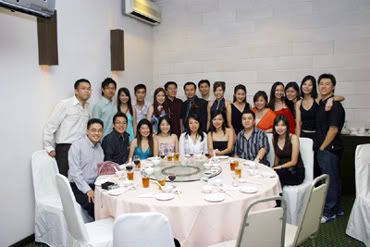 *nice group photo*
Today working not so productive as I don't know how to get my program working... Most of the time chat with colleagues n friends =p. Am happy chatted with someone that didn't chat for some time *wink*.
Tonight went to Summit FF which first time I visit it ever. The place not big but not small. It is ok and not pack. Joined Body Jam class which always my favourite with favourite instructor. I purposely join this class because it is the only class which I favour at right time. The instructor so touch and happy to see me. Chatted her for while and knowing a lot of things. Today will be final class for body jam old tracks. Because this weekend will launching new tracks and started next week will be teaching new tracks. I plan to go on Sat & Sun for the launching => from one studio to another studio kekeke.